Research in the Evolutionary Morphology Research Group (EvoMoRG) at the Department of Palaeontology of the University of Vienna is at the interface between palaeobiology and evolutionary developmental biology of vertebrates. For this we integrate living and fossil organisms, knowledge of their evolutionary relationships and past diversity patterns, and developmental biology, to provide a holistic understanding of their evolutionary history. We have particular interests in, but not restricted to, the evolutionary origin, morphological rate changes, adaptive trait developments, and diversity and disparity patterns of modern sharks, skates, and rays and bony fishes at the broadest temporal and spatial scales. Central questions that we seek to answer are why fishes became successful (in terms of taxonomic diversity or position within trophic food webs) or went extinct even when they were successful in deep time.
We are member of the Vienna Doctoral School of Ecology and Evolution and the research network Human Evolution and Archaeological Sciences (HEAS) at the Unievrsity of Vienna.
Our lab has facilities for rock digestion, high-end micro-computed tomography (Bruker Skyscan 1173 Desktop-Micro-Computertomograph; click here for more information), 3D digital microscopy (Keyence VHX-6000, 20-2000x magnification), scanning electron microscopy, high performance computing for image data processing, micro- and macro-anatomical labs, and an aquarium infrastructure (Click here for watching suction feeding of Hemiscyllium ocellatum).


---
The EvoMoRG Lab Notice Board
Latest News
Shark from the Jurassic period was already highly evolved
Latest publication on enigmatic Late Jurassic shark promoted on Twitter: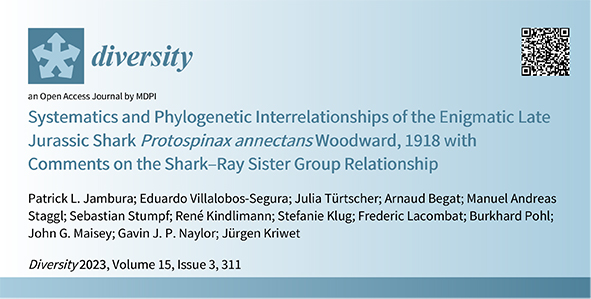 Latest Publications
2023:
Shark mandible evolution reveals pat-terns of trophic and habitat-mediated diversification
2023: The oldest Gondwanan record of the extinct duro-phagous hybodon-tiform chondrich-thyan, Strophodus from the Bajocian of Morocco
2023: Systematics and phylogenetic interrelationships of the enigmatic Late Jurassic shark Protospinax annec-tans Woodward, 1918 with com-ments on the shark-ray sister group relationship
2023:
Diversification trajectories and pa-leobiogeography of Neogene chondrich-thyans from Europe
2023:
First occurrence of hybodontid teeth in the Luoping Biota (Middle Triassic, Anisian) and re-covery of the marine ecosystem after the end-Permian mass extinction
2023:
Head anatomy of a lantern shark wet-collection specimen (Chondrichthyes: Etmopteridae)
2023:
The extinct shark, Ptychodus (Elasmobranchii, Ptychodontidae) in the Upper Creta-ceous of central-western Russia - The road to easternmost peri-Tethyan seas
---
Address
Department of Paleontology
University of Vienna, Geozentrum
Josef-Holaubek-Platz 2
1090 Vienna, Austria
Contact
---
Our research is/was supported by the Austrian Science Fund (FWF), the CONICYT Chile, the Austrian Exchange Service (OeAD), German Academic Exchange Service (DAAD), the German Research Foundation (DFG), the Marie-Curie Actions of the European Union, the SENACYT Panama, Sharkproject Austria, Synthesys, the University of Vienna, and the Vienna Doctoral School of Ecology and Evolution (VDSEE).
---